What to Know
Celebrity chef Tom Colicchio and his wife woke up to find their front lawn in Mattituck vandalized

It appears that a sign supporting a Democratic candidate for Congress is what set off the graffiti

The messages showed a cross, a Jewish star, and the words "Trump," "Go home" and "Cuomo = Death to America"
A political sign for a congressional candidate on Long Island was defaced Sunday with a spray-painted swastika, the campaign said.
The sign for Perry Gershon, the Democrat challenger for Congress, was in a yard in on Nicolls Road in Stony Brook.
Gershon and the Republican incumbent, Rep. Lee Zeldin, are both Jewish.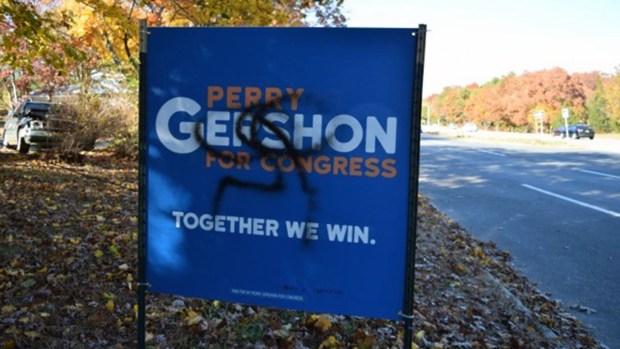 Photo credit: Perry Gershon campaign
Zeldin's campaign downplayed the vandalism in an interview with Newsday and suggested Gershon's campaign may have defaced their own signs to get attention.
Gershon responded: "I think he's trying to incite, as opposed to calm, and it's inappropriate and it's disgusting for a fellow Jew to do that. "
Your ads will be inserted here by
Easy Plugin for AdSense.
Please go to the plugin admin page to
Paste your ad code OR
Suppress this ad slot.
It's not the first time Gershon's signs have been defaced. On Monday, dozens of his signs in Patchogue were spray-painted with the phrases "gay lover" and "baby killer," Newsday reported.
In August, celebrity chef Tom Colicchio said his Mattituck home was targeted by vandals because of a Gershon sign in his front yard. The graffiti included a cross, a Jewish star and his wife's name, along with the words "Trump," "Go home" and "Cuomo = Death to America."
This was in response for putting a @perrygershon yard sign up. What say you @leezeldin also my wifes name a cross and a Jewish Star pic.twitter.com/vFKIJPaJhD

— Tom Colicchio (@tomcolicchio) August 21, 2018