Within Fremantle, the first major portent of Ross Lyons sacking came in July, when the club board convened to discuss the findings of a strategic report.
The 100-page strategic report was composed by Fremantle chief executive Steve Rosich, who would be removed on the same day of the long knives at Fremantle, as the Dockers made a double-play no less ruthless than the stunning afternoon eight years ago when they sacked Mark Harvey and replaced him with then St Kilda coach Lyon.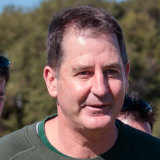 Rosichs report urged significant change at the club, but the CEO suggested that Lyon should remain coach for 2020.
The board, chaired by Dale Alcock – the biggest builder in Perth – accepted all of the Rosich recommendations, with one notable exception: They weren't necessarily keeping the coach.
Rosich had tied himself to Lyons tenure. But he also been at the helm of the club for more than a decade and there was a view within Fremantles board that the club needed a complete make-over at the top.
Advertisement
So when Rosich declared publicly after that board meeting that Lyon would be there in 2020 – as per the coachs contract – and so would Rosich, the chief executive was writing the proberbial cheque that the board ultimately wouldn't cash.
Rather, Lyon will be cashing several hundred grand in a pay-out, while Fremantle – which may or may not exceed the soft cap on footy department spending – will be searching for successors to the coach and CEO, with no one ruled in or ruled out, as Alcock put it.
Were not performing well enough as a club, Alcock told The Age, explaining the decisions. We need to be a superpower.
One would imagine that the Dockers already have a coaching short-list – decisions of this kind are not made without at least canvassing replacements. Collingwood assistant Justin Longmuir, an ex-Docker and West Coast assistant who has a strong relationship with Peter Bell, Freo's football chief, will be a candidate. Beyond Longmuir, the rest – Brad Scott, John Worsfold included – are pure speculation.
Your ads will be inserted here by
Easy Plugin for AdSense.
Please go to the plugin admin page to
Paste your ad code OR
Suppress this ad slot.
While there will be local pressure for the club to appoint a West Aussie – the past four coaches were all Victorian (Damien Drum, Chris Connolly, Mark Harvey and Lyon) – Alcock said this was not a consideration.
Lyon and Rosich were both said to be surprised on Tuesday morning, when Alcock told them they were gone, although Rosich cannot have been surprised that the coach was sacked, in view of the board's position back in July.
Staff, too, were floored by the twin terminations. If assistant coaches suspected that something might be up because football boss Bell had delayed offering contracts to some of them, this did not necessarily signal that Lyon was done.
Alcock said there was no point waiting once a decision had been reached, as it had been on Sunday. The Dockers knew that the word would get out soon enough.
Another consideration for the timing of the joint sackings was Polly Farmers state funeral, which was scheduled for Monday and had the announcement been delayed, it would run the risk of overshadowing Polly's send-off.
Lyon knew that a contract extension beyond 2020 – which would have been his ninth year with Fremantle – wasnt likely.
There had been subterranean rumblings in Perth about both the coach and CEO at the Dockers for months and, in all probability, both were in trouble long before Alcock the builder did the most serious re-stumping of any club in years.
Lyon's tenure at the Dockers is equally divided between the contending period of 2012-2015 and the rebuild of 2016-2019 that was sluggish in comparison with the competition powers that the Dockers strived to emulaRead More – Source
[contf]
[contfnew]

[contfnewc]
[contfnewc]